Take a Creative Break
10 days – 6 live-workshops – small steps – start: 6.5.2021
AUDACIOUS and BRAVE:
Portrait
Surrender to your creativity – with lots of fun and indulging in colours.
When was the last time you took a creative break?
Do you want to really relax again and forget your everyday life with a creative activity? Maybe you have been thinking about learning something new for a while?
Do you feel the desire in you to finally give your creativity more expression? Are you looking for new experiences to share with like-minded people?
Would you like to immerse yourself in a colorful world in which you and your skills are paramount?
And grow from it, as well as learn independently how to bring certain things to the canvas? Quite uncomplicated with instructions and the possibility of freely designing your creation process for yourself?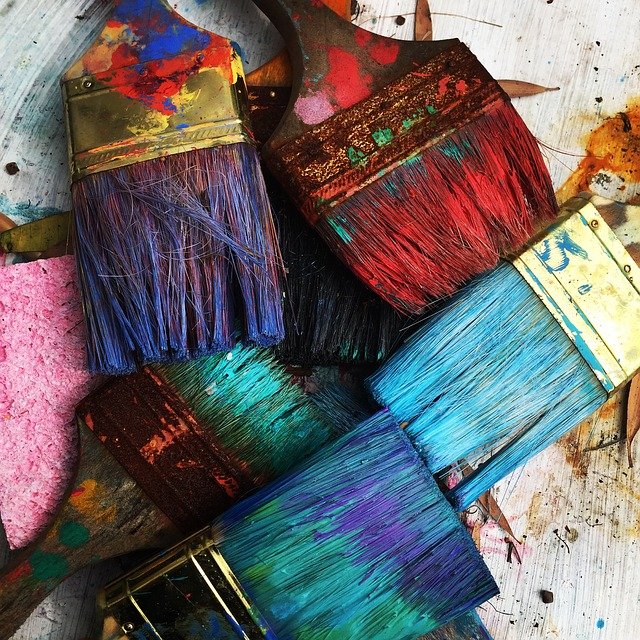 If so, then you've come to the right place and my workshop AUDACIOUS and BRAVE could be just the thing for you.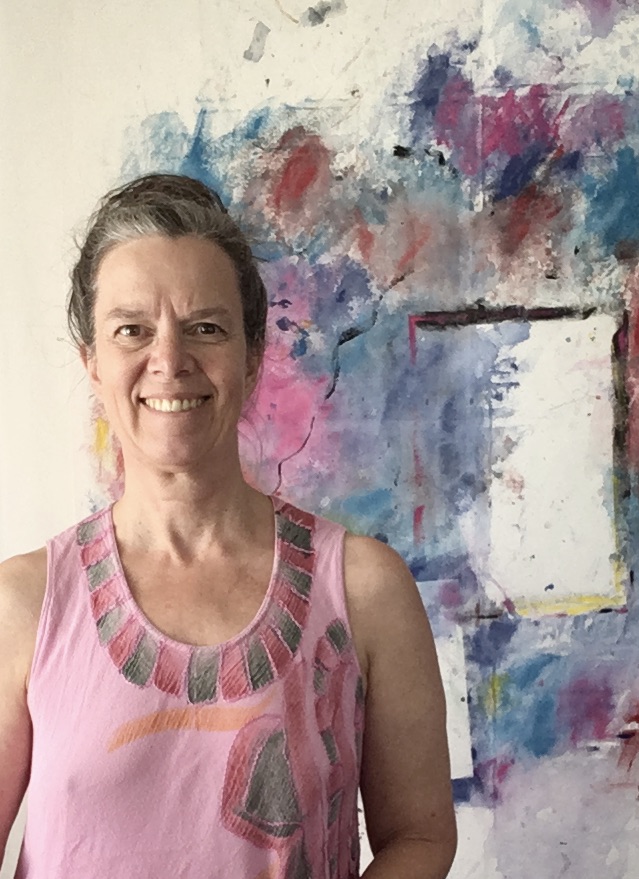 Hello and Welcome to my page.
My name is Angelika Neumann, I am a passionate artist, business mentor and art therapist. And I love to accompany people on their artistic path and to show them the advantages of giving creativity more space in life.
I like to paint for my life and always have. I got the best inspiration so far in Florence. Because Italy is and will simply be a very special place for  arts and for me a time in my life that I would not want to miss. I regularly take time out. For me this is very important to clear my head.
After that, everything else is so much easier to do and the ideas just gush out. But maybe you know that yourself?
For years I have been working with people and helping them to unleash their creativity and surprise themselves.
Many say at the beginning: "I can't paint" and then they conjure up very special and wonderful pictures. This judgment, with which many people struggle, often comes from their school days. In our school system there is not always enough space for individuality and creativity.
In my workshops, I happily discard this judgment and watch enthusiastically how unique works of art are created.
Just like with Franziska. She took part in one of my workshops and says the following about it:
"He told me he is done. This was my first portrait. Half a year ago I would have adamantly said that I cannot paint. Thanks for the experience. I underestimated how intense these 5 days(*) will be, but I am proud and satisfied."
By the way, Franziskas portrait has the size of 80 x 60 cm!
(*) My first workshops lasted 5 days in a row.
Would you like to find access to your creativity again?
Then click here and register.
This is what you will gain:
✅ You will be able to create your paintings with more courage and confidence.
✅ You will gain better access to your inner creativity, get to know yourself better and create your own wonderful painting.
✅ After the workshop you will know exactly how you can create more space for creativity in your life.
✅ You will grow from your artistic success and enjoy the fact that you allowed yourself this creative break.
✅ You will meet like-minded people and enter into a dialogue with your image, which is an important part of the artistic process.
✅ SHORT: You will paint with courage and joy, get to know new techniques and impulses and benefit from 40 years of artistic experience.
Does that sound good to you?
Then register quickly, because on 6.5. it is starting.
How, where and what do I need?
We will meet online as a group 6 times for 1 hour each within 10 days. Meeting time is 7pm Berlin time.
The start is on Thursday, 6.5. at 7 pm = WELCOME PARTY – Be there!
Friday, 7.5., 7 pm: We start to paint,
Saturday, Sunday (May 8th & 9th) and then the following week Friday (14th) Saturday, Sunday 7 pm Berlin time
Here Sosi tells you what advantage this has:
The format is great. Always in manageable bites (1 – 2 hours) and then again a few days break to let the picture and the information sink in.
You will receive all appointments by email after registration.
If you don't have time to be there online, you can watch the video in the Facebook group.
What do I need?

You need a desire for colour and the following materials: canvas, acrylic paint, brushes in different sizes. After registering, you will receive a materials list that you may find helpful.
How much time do I need?
We meet live for about an hour a day. You can either participate live or watch the recording afterwards or do both. The time you need or give yourself varies from person to person.
Is there a replay?
Yes, there is a recording of the live workshops in the Facebook group. You will also experience the inspiring atmosphere in the recording.
What does this workshop cost?
You invest 156 Euros including VAT in your artistic and personal development. I chose this price because the number 156 stands for creative self-expression. It  is optimistic, curious, and self‑sufficient. Be assured that the course is worth a lot more. You will learn a lot, get a lot of input and grow from it and I am looking forward to accompanying you on your way to creativity.
For my Canadian friends: that is about 233 Canadian $
Here are a few words from Dalita.
"Before I show my unfinished work, I would like to thank you for the great time. With you, Angelika, for your constant positive motivation and support. … In any case, I really enjoyed it. and I also think that we are a really nice group. I think it's great how successful your pictures are. … I'm looking forward to our champagne meeting"
By the way, Dalita has finished her painting and is happy with it! My goal is to initiate an independent artistic creation process that enables you to realize your painting projects on your own.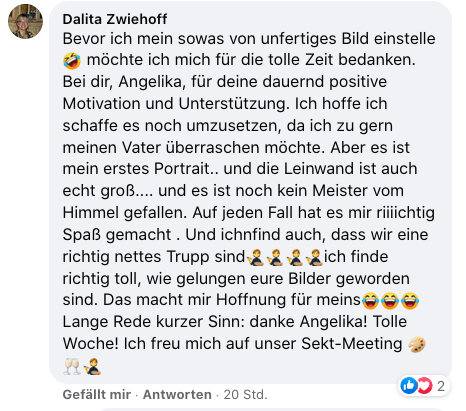 Do you feel like letting your creativity run free and surprising yourself?
In this video you can see a selection of paintings that were made in the courses. The fascinating thing about it is: They are all very individual. #lovemyjob
If you feel like it, you can be inspired by my painting. Or do you feel like implementing your own ideas? Send me an email with your preferred theme, and I'll tell you whether it fits.
Sosi painted this portrait:  (80 x 60 cm)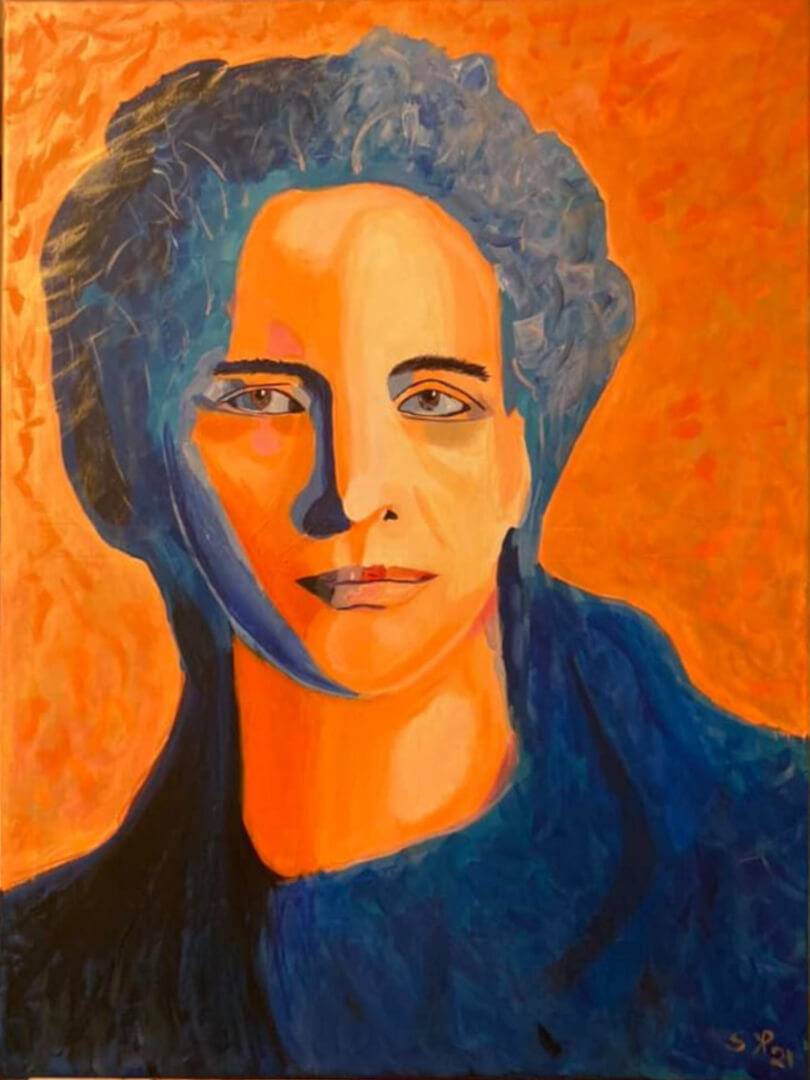 It was a lot of fun and it was great that you responded to everyone and took a lot of your time to do so.
Please continue to be patient, relaxed, funny and easy as you are! It was great fun and you responded to everyone! Thanks a lot for this.
Carry on exactly like this! It was a wonderful workshop and I've never had as much fun painting as yesterday! Thank you very much!
The dosage between individual steps, tips and tricks, history and in between the rest, garnished with humor. For me that was exactly right.
Keep it up! That was great and a lot of fun! A very good mixture of instructions, additional knowledge, anecdotes, assistance and attention / empathy for the participants

Christina: "Thank you very much for the great hours and all that we were allowed to learn! I will miss the evening video sessions."
It was a very relaxed atmosphere. Quite unobtrusive. Perfect!
Thank you, Angelika, for the passionate and competent guidance!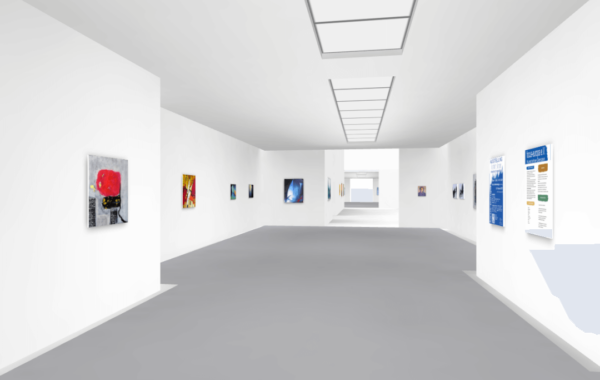 Exhibition
I am planning an online exhibition with the artworks of my participants in October 2021.
This is going to be awesome! It is so impressive which works have been created so far.
I'm looking forward to you and our next workshop.
You can see a small selection of my works on my  Website.