Take a creative break!
5 days – small steps – start: 20.2.2021
Surrender to your creativity – with lots of fun and indulging in colours.
Treat yourself to
a creative break
Make YOUR painting in an inspiring atmosphere!
5 days of impulses for your creativity!
Switch off again and again for 5 days!
For 5 days immerse yourself in a world that you create yourself!
5 days of inspiration!
Lots of information, how-to instructions, reflection!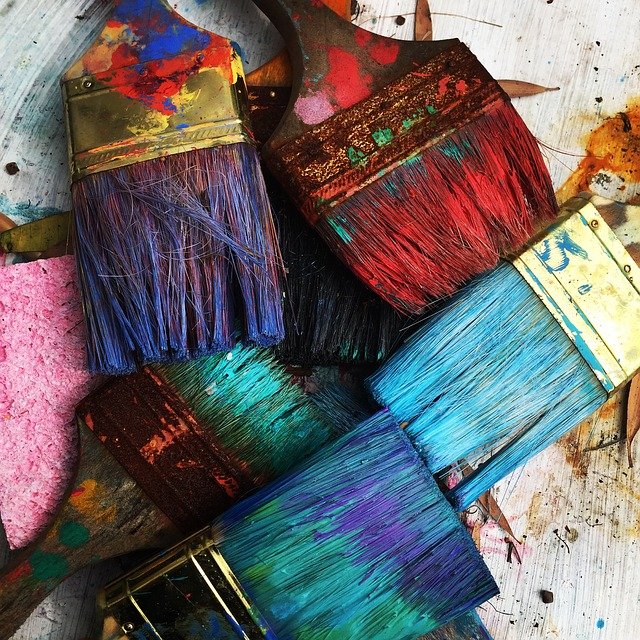 If you feel like it, you can be inspired by my painting. If not, paint your choice and just enjoy the creative fellowship in a small group. See a few examples below:
Can I see what your painting looks like in the beginning?
Not at the beginning. Throughout the workshop, I will develop my painting day by day in small steps. I paint in many layers with a cheeky and bold application of paint. I will do a lion again.

What if I want to paint another picture?
Send me an email with your preferred theme, and I'll tell you whether it fits.
We meet live for about an hour a day. You can either participate live or watch the recording afterwards. You may prefer to watch the video after the live presentation. The time you need or give yourself varies from person to person.
When are the live workshops?
The live class will occur at 6 p.m. Berlin time online in a ZOOM-meeting. The time can differ on individual days. If you cannot take part you can watch the replay.
I can't paint, can I still take part?
Of course! So often I hear someone say, "I can't paint!" and then magical pictures emerge. This self-judgment mostly comes from past school days! It is high time to throw this judgment in the bin!
Why do you call this workshop "AUDACIOUS and BRAVE"?
In my painting events, I often see that being bold and brave is  what is missing most. Many people are initially cautious, do not dare. I want to change that! We will face the inner critic and perfectionist and switch back and forth between absolute freedom and planning and structure.
Yes, there is a recording of the live workshops in the Facebook group. You will also experience the inspiring atmosphere in the recording.
You need a desire for colour and the following materials: canvas, acrylic paint, brushes in different sizes. After registering, you will receive a materials list that you may find helpful.
What does this workshop cost?
111 Euros including VAT
For my Canadian friends: that is about 170 Canadian $
Who is this course for:
For everyone who wants to let off steam creatively on canvas.
For everyone who wants to develop an independent creative process.
For everyone who wants to switch off completely while painting.
For everyone who likes to be surprised.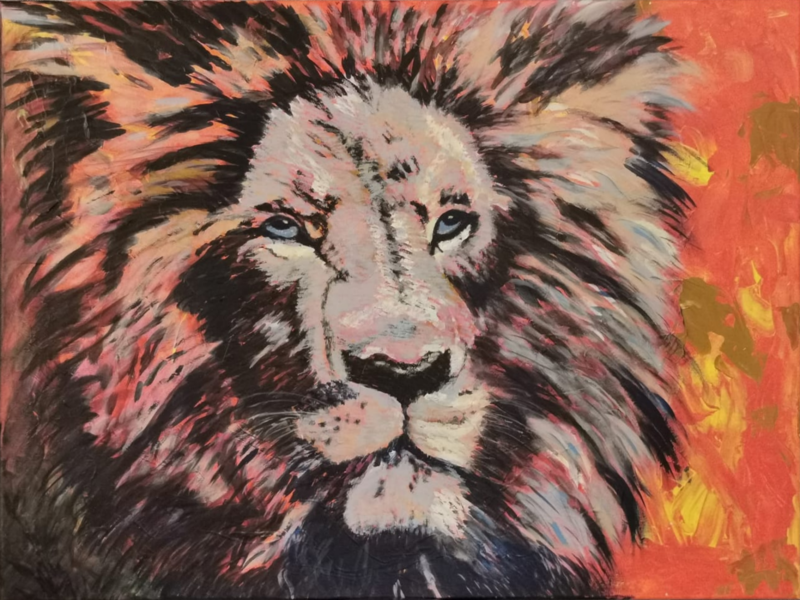 Acrylic on canvas, 60 x 80 cm.
This lion was painted by Petra Kern as part of AUDACIOUS and BRAVE.
These comments refer to German courses and have been translated:
It was a lot of fun and it was great that you responded to everyone and took a lot of your time.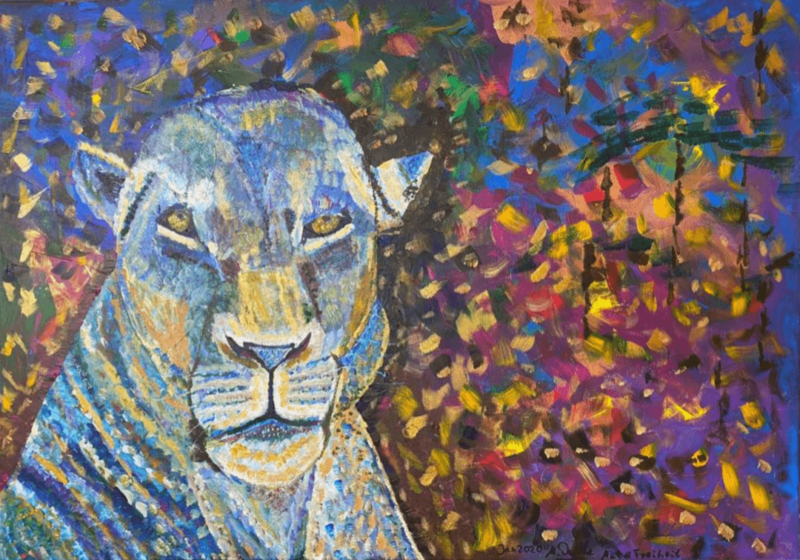 Acrylic on canvas, 70 x 100 cm.
This lioness was painted by Martina Dettke as part of AUDACIOUS and BRAVE.
It was a very relaxed atmosphere. Quite unobtrusive. Perfect!
Thank you, Angelika, for the passionate and competent guidance!
This video shows the creation of the image over time.
In the last workshop lions, flowers, a lioness, a highland cattle were created. What would you like to paint? Write me your desired theme by email an(at)artstudio30.com.
This is what you will gain:
✅ In the end you will have created your own amazing painting.
✅ You will have learned something about yourself, because when we paint we always gain knowledge about ourselves.
✅ You will have gained courage and confidence in painting. And the best part is, if you are courageous on a canvas, it has an impact on your life too.
✅ You will know how you can bring more creativity into your life in the future.
✅ You will gain pleasure from spending time for creativity and selfcare.
✅ You will have learned to converse with your painting as an important part of the creative process.
✅ You will have taken a big step further in the direction of an independent creative process.
✅ You have gained a lot of insights and techniques from 40 years of experience as an artist.

✅ Access to the course material and replays for 2 months
The dosage between individual steps, tips and tricks, history and in between the rest, garnished with humor. For me that was exactly right.
Keep it up! That was great and a lot of fun! A very good mixture of instructions, additional knowledge, anecdotes, assistance and attention / empathy for the participants
Please continue to be patient, relaxed, funny and easy! It was great fun and you responded to everyone! Thanks a lot for this.
Carry on exactly like this! It was a wonderful workshop and I've never had as much fun painting as yesterday! Thank you very much!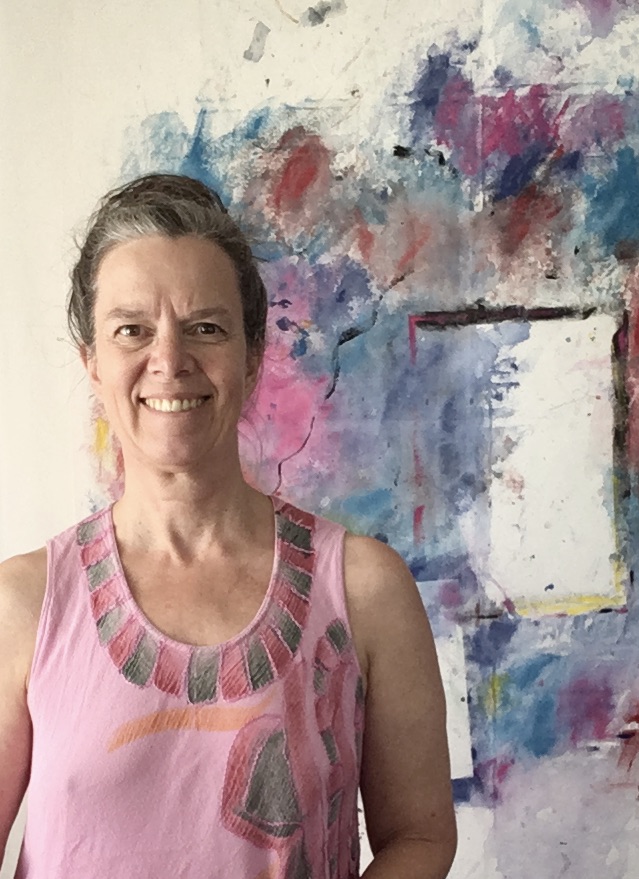 I'm Angelika Neumann, artist, coach, business mentor or, quite simply, a creative source of inspiration, more courage, enthusiasm and clarity.
I always allow myself a creative break. For me this is important to clear my head. Then the ideas bubble up again. And since I prefer to paint in a community, I designed this workshop.